Nityasumangali: Devadasi Tradition In South India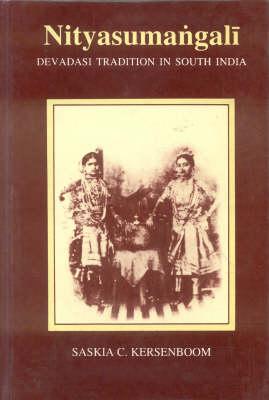 Nityasumangali. Devadasi Tradition in South India (1984), (1987, 1998, 2002, 2011 Delhi, Motilal Banarsidass)

The phenomenon of the devadasi has suffered greatly from faulty, culture-bound evaluations. This monograph does not aim at judging these earlier evaluations, nor does it claim to give a 'truly objective' description of what the devadasi tradition was; it rather tries to f ollow the inherent mode of thought, namely, what the devadasi tradition meant within the frame of Hinduism, and its transformation into a living cultural phenomenon functioning significantly in the context of the Hindu tradition.
The commercial edition (1987) is based on the integral script of the PhD version Nityasumangali, towards the semiosis of the devadasi tradition in South India, defended on 18 May 1984 with honours (cum laude) by Saskia Kersenboom, at Utrecht University, The Netherlands.
Reviews
The India magazine of her people and culture. April 1989, Vol 9, No. 5.
Review by Amrit Srinivasan
The Journal of Asian Studies. February 1990
Review by Kay K. Jordan
Sruti. Issue 187. April 2000
Review by Manna Srinivasan
&laquo back